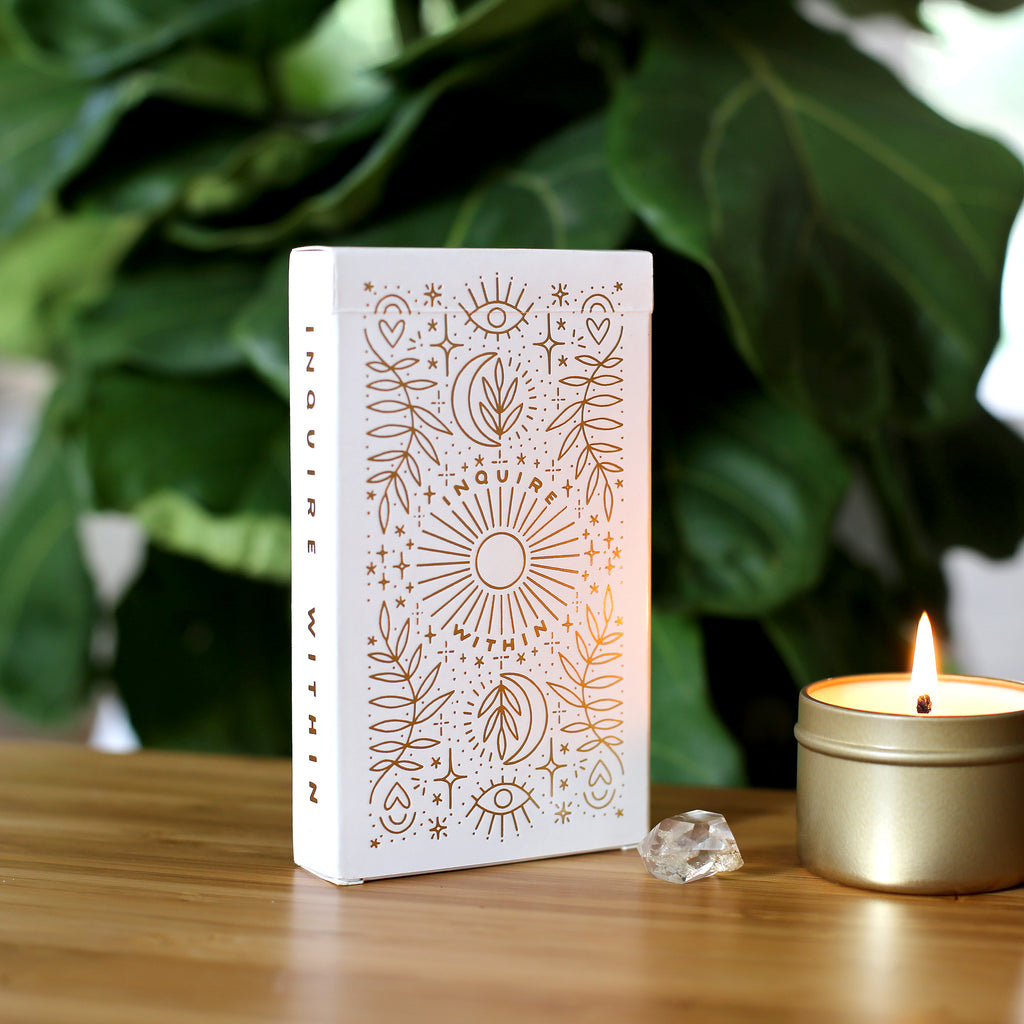 This is a post about the making of the Inquire Within Oracle Deck.
Seeing this deck in the hands of others, hearing how it is used, and witnessing its many ways of relating to others continue to be such joys to experience! I am so grateful. 
This post is about how I started the project.

I intentionally decided to make Inquire Within a slow project because it began as a slow practice, and the process was a healing journey for myself. A project like this would have been unfeasible as something done quickly. Sometimes the creative process doesn't want to rush, but instead gently but firmly asks for time and space. So, I honored that and listened. 
Making my deck also meant using it during its creation. The process asked for thought, care, and my own real-time feedback with each card design. It needed these things in order for each design to feel true. The result is a collection of oracle cards that feel universal and relatable to many!
The idea for a card deck of simple, healing reminders bubbled up out of the creative ether when I was going through some of my past journals. A lot of the time when I journal I make it a point to emphasize and write in big bold letters things that I realize in the process. What usually comes up are words of encouragement, affirmations, or simple phrases that bring me extreme comfort, motivation, or a sense of relief in that moment. I can't help but want to naturally share these words that bring me peace, and I feel that making drawings with healing words is something I have to offer as one of my creative love languages. Even more important than me sharing words that have helped me in card deck format, the deeper spirit of this project comes from the idea that you yourself can heal you yourself. Having little reminders around feels like having access to remembering truths about life that can release our minds from everyday suffering. Very gentle loving reminders. Grounding exhales.
This image above is from my "personal trial version" of the deck before I worked on the illustrations, read more about the first steps below in the post.
The execution of making the designs and turning them into a thoughtful tool for reflection took a little less than a year from start to finish. But the actual process started many years ago! Here is some more back story about my own path of personal growth before I get to explaining my very first steps in the project. I started having panic attacks, anxiety, and very frequent unexplained crying in 2011. I ended up connecting with a holistic psychotherapist and found through our work together how powerful inner inquiry and self-honesty are for self-growth and healing. Although I think our lives are an endless process of waking up, I'd like to think my journey really started there. These therapy sessions really helped (and continue to help) open me up. A few years into therapy in 2014 shortly after my son was born, I started a journey into a daily traditional Ashtanga Yoga practice. Yes, I said daily! One of my favorite parts about this very devotional practice, among many, is the cultivation of energy awareness. This daily return to my practice each morning facilitates depth and regularity of self-study. Going deep into my nervous system, synchronizing my energy with my breath, and noticing the effects as my teacher says. Becoming more in tune with the layers of being and where + how the energy is moving, I feel more connected to subtleties I can feel in my body, mind, and surroundings. Everything (and I mean everything) is brought up to the surface through this embodied spiritual process of connection, and I am able to see my experiences and perceptions clearer and clearer. 
Image of some original illustrations, drawn by hand, much larger than the final cards.
That being said, many of the little wisdom bits that result from exploring everyday struggles in my journal entries have probably been brought to light by those two main things – therapy and yoga – which both require a willingness to explore deeply, to ask yourself questions – to inquire within.  I have so much gratitude for these parts of life.
In addition to the journal entries, messages started to pop up all of the time. They still do. Sometimes I will just be going about my day, and some words will pop up that feel supportive or help me make sense of something, and I jot it down in a notebook or on my phone if I don't have paper. I love having these personal archives.
So that brings me to this: the contents of the deck are reminders/prompts that have already served someone (me). There are 53 hand-illustrated cards to inspire inner wisdom, growth, and connectedness. Why 53? I don't know. That's when the deck said it was ripe. (Technically there are 54 cards, one is a little instruction card).
Original illustrations, ink on paper, hand for scale. 
Here is a step-by-step creative process of making the deck:
Note: I didn't plan this process, this is just how the process went. My only goal was for it to unfold in a very real and heartfelt way.
1. I gathered as many little reminders I have in my personal archives as I could
2. I first put them in a notebook, one per page.
3. Next, I made a trial version of a deck with only the words scribbled, made from scrap pieces of old prints (as seen in the picture above!)
4. After I had my trial deck made, I TRIALED IT to its last wits. Any day I had the space to work on the deck, I would pull a card, and see if the words resonated.
5. If it didn't resonate, I'd take it out. Or if it only half-resonated, I would change the phrase, fine-tune the wording, etc.
(*note* a lot of the time, when I pulled a card, it was SO spot on to what I was feeling that day – just like my experiences with my tarot decks)
6. If it did resonate, or once it was a phrase I felt was complete, I started on the lettering & illustration  (a few examples of some original illustrations above, I drew them much larger than the card size):
I hope you enjoyed reading about my creative process for the deck!

Interested in having one for yourself?
You can purchase a deck on our shop right here!
Thank you for reading!