analog joy forever!
At Worthwhile Paper, we create tactile, sustainably printed paper
treasures to delight your senses and enhance joy and intention in your life.
We're so happy you're here.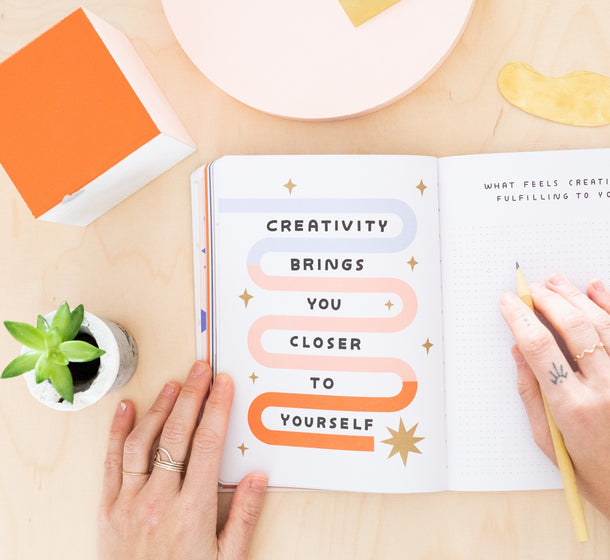 We are a design and print studio creating specialty goods that bring happiness, depth, and uplifting energy to your day.
Our thoughtfully-crafted paper goods are handmade in Ypsilanti, Michigan using eco-friendly materials such as recycled paper and plant-based inks. We aim to nourish your love for the earth, deepen the connections in your circle and inspire a creative path of self-discovery.
We believe in the power of meaningful connections.
It is our mission to inspire purposeful living with our designs while noticing the magic in everyday moments. We aim to:
Spark self-reflection and discovery
In order to know how to love others, we must know first how to love ourselves. We believe in the growth and abundance that comes from looking within, and this focus inspires each of our designs.
Foster connections with others
A well-lived life puts us in deep connection with our friends, loved ones and our greater community. That's why we design our products to make it easy for you to share thoughtful sentiments. And we donate a percentage of our profits to support minority-led initiatives working to make the world a more awesome place.
Cultivate care for the Earth
We are proud to use water-based screen printing inks and recycled white and kraft paper stocks from a Michigan paper mill that operates on 100% hydropower. We've implemented a recycling and reuse process in-house, ship our orders without plastic and plant a tree for every order.
OUR TEAM
We're a small, but conscientious, team that crafts and prints each Worthwhile Paper piece by hand. Inspired by the beauty of simplicity, artist Kristen Drozdowski creates each one of our designs. Kristen's partner Steve expertly translates their original designs to the screen printing medium and produces each product by hand. And your orders are processed with joy by a small group of lovely humans.
Meet Our Team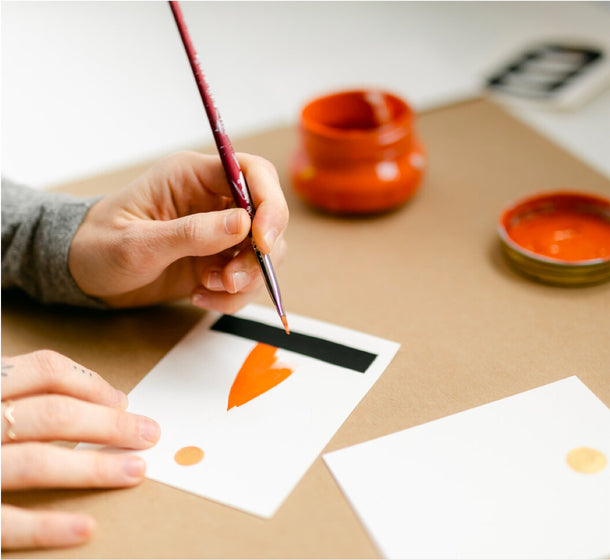 Our Process
Each Worthwhile Paper product is thoughtfully designed in our Michigan studio. We blend bold and energizing colors with minimalist and soothing graphic patterns to deliver a sense of uplifting energy and contentment.
We screen print our flagship paper products in-house, by hand. We're passionate about the impact of color and design in our lives, and so we hand-mix each of our inks to create our unique palette of colors with their own energetic feelings. We then apply these colors one layer at a time to create art that's a joy to behold.
Behind the name "Worthwhile"
In daily life, I am always looking for ways to remind myself to focus on the things that matter most. I keep learning that it's ok to save valuable energy and love for experiences that feel life-giving and not depleting.
Beautiful outcomes often result from choosing a path that requires some energy. Discovering and admitting our personal patterns, moving through pain to healing, connecting deeper, and being of service to others require time and effort. Going about our endeavors with great passion, to feel bright and full in our work, isn't the easy path, but it's the right one.
I love to make designs that celebrate the beauty of simply being alive, as we continually learn, expand and hopefully spend our lives doing things that make us feel most connected.
I hope this energy radiates through all of our offerings.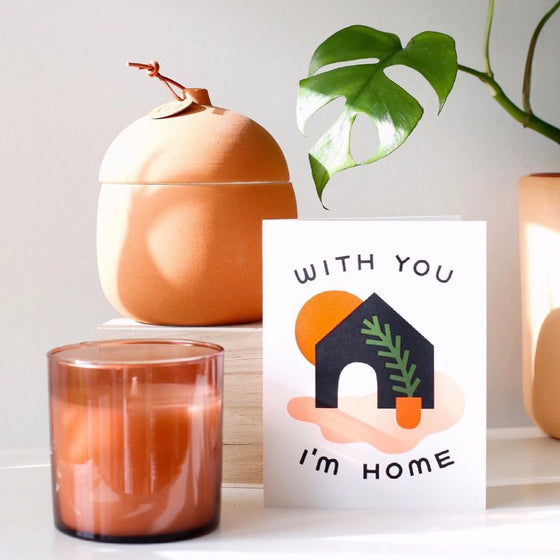 Come Say Hello
Our studio is located in south east Michigan. We are open by appointment only or during special events, open house and workshops. We also offer local order pickup!